CASE STUDIES
West Byfleet Golf Club - Bunkers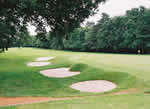 We were asked by the Club to produce a report, in the first instance, on the condition of the bunkers, how the strategy of the existing bunkering was effected by the new technology of golf equipment.
The condition of the bunkers had lost their shape and face due to ongoing erosion over time, we recommended that we rebuilt the bunker faces and shape as they where originally designed.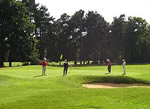 There where a number of the original bunkers, that where out of play due to the length that the modern golfer hits the ball with the new technology from the tee.
The recommendation was to remove the bunkering that was out of play, and to produce a new bunkering plan to compensate for the removal of the old, this had the affect of enhancing the course and improving the challenge for the better player.
Coombe Hill Golf Club - Greens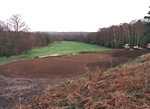 Because of our long association with Coombe Hill we were asked to consult on the rebuilding of the eleventh Green, for over the years they had had the green rebuilt at least on two occasions. The main problem was that the green was at the bottom of a slope which caused major drainage problems.
We redesigned the green at a slightly new position making it possible to design a better drainage system and overall contouring.
The green was built with a full drainage system plus full USA specification - NC&A always recommend this specification, unless the client requests otherwise.
PGA de Catalunya - Tee Extensions and Upgrades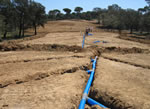 Due to the amount of play on this course during the year, the tee areas where becoming very worn and patchy, particularly on the short holes this was due largely to the tees being inadequate in size.

We took this problem of wear into account in our new design for tees not only on par threes but throughout the 18 holes most of the teeing area was enlarged to take account of future play.